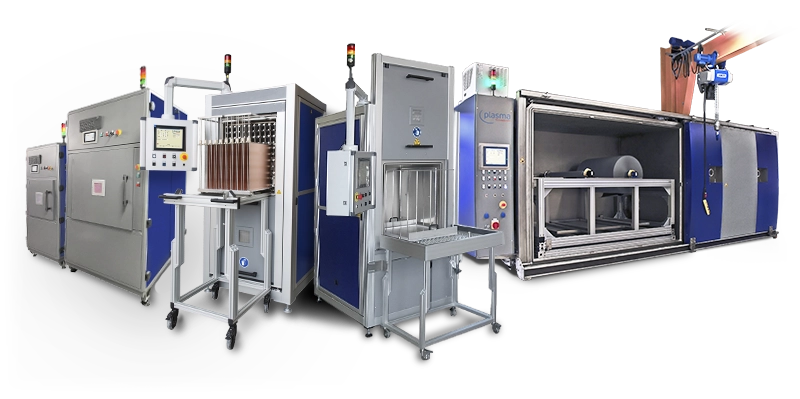 There are examples in our plasma systems for production pages of plasma chambers that have loading systems for bulk goods and powders, circuit boards as well as sheet and roll goods.
Small fast cycle plasma chambers
For integration into production lines small plasma chambers enable a fast cycle process with automated loading.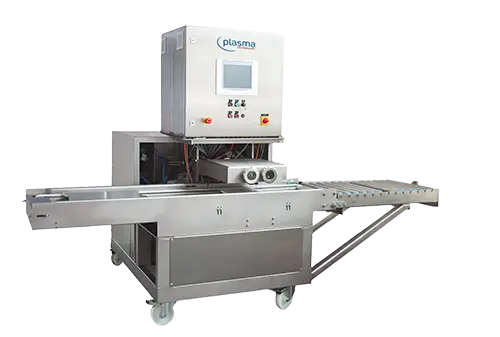 plasma chambers for bulk goods
The plasmaActivate PlasmaActivate 450 Drum is a good example of a plasma chamber with automatic handling of the product after treatment.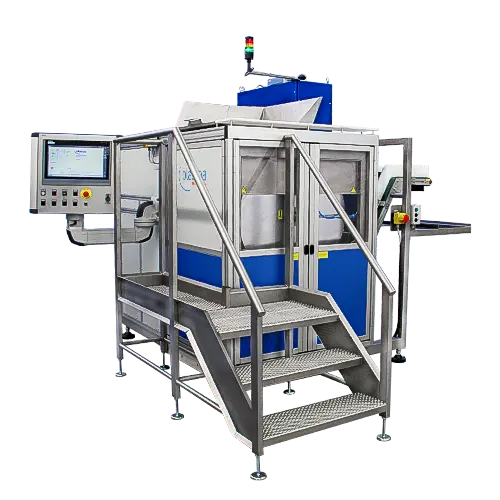 Double door plasma chambers.
The PlasmaActivate 3200 for example.
A double door plasma chamber allows it to be used a lock to a clean area. After loading product can only be removed from the other side after the process is completed.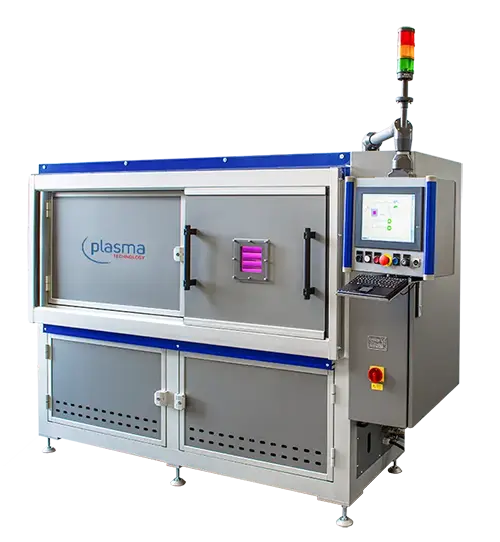 Plasma chambers for roll to roll goods.
For the surface treatment of roll goods such as sheets tapes or tubes.
The PlasmaActivate 8200 r2r is an excellent example of such a plasma chamber.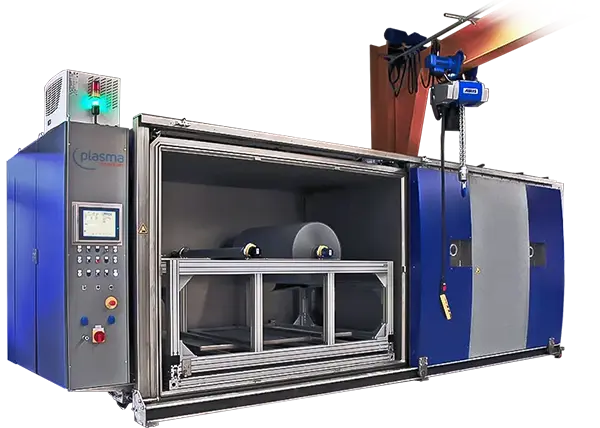 How can a plasma chamber contribute to efficiency?
A number of gasses can be attached to the chamber and the process programed such that during the process the gas supply automatically changes, as can the energy and pressure.
This enables processes such as preparation for bonding or painting to be done in a single step. The product is cleaned , etched and primed in one step.
How can I get the most out of my plasma chamber?
Be creative!
In addition to the common practices of cleaning and surface modification this versatile instrument can achieve much more.
Look at some of our innovations,Plasma wood, and Zero emission etching that we have already published.
It can be an excellent heat source to allow high temperature processing and development in a none oxidizing environment.
A high UV environment, with the correct choice of gas and process.
With the correct design even, materials normally degraded by plasma can often be safely processed.
Don't let conventional thought limit your creativity!
The form of the product that can be processed in a plasma chamber are almost limitless, from fine powder to sheets and roll gods such as tubing or films.
Conclusion
A plasma chamber is a powerful and versatile instrument providing a controlled environment to enable or enhance the production process.
We would be pleased to discuss with you the plasma chamber and loading system best suited for your needs.