Roll to roll plasma chambers.
These can be designed for either flat roll goods such as textiles, filter membranes, or to handle circular items such as tubing or cables.
Textiles can be made either hydrophobic or hydrophilic dependent on the end application.
Surfaces of materials can be treated to improve bonding.
It may be that the product simply requires plasma cleaning.
With parameters such as power, speed, pressure and process gas all under your control the roll to roll plasma chambers offer extreme versatility.
Chamber volumes can range from 100 to over 8000l as shown in the example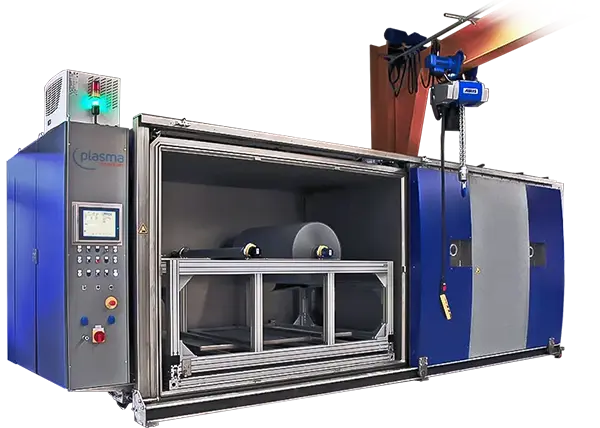 Plasma chambers for bulk goods and powders.
Single drum systems with loading assistance
Multiple rotating drum systems so product sets consisting of several different parts can be treated together.
Automatic systems with separate discharge to ensure treated goods have no contact with raw goods. Ideal for cleaning and sterilization.
Laboratory desktop systems for development and small production.
Chamber sizes from 100 to over 8000l volume.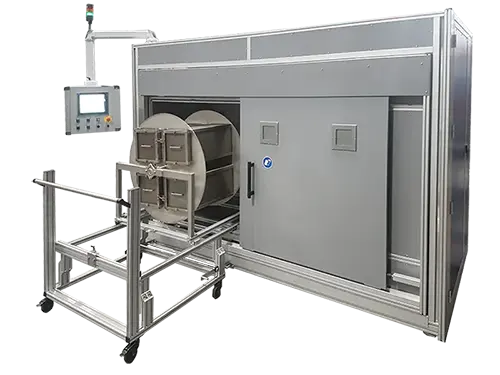 Ultra clean Plasma cleaners for EUV lithography
Taking plasma cleaners to new limits.
Extreme cleaning of metal parts to a level that can only be measured with special detector systems (XPS and RGA).
Control of temperature during process to prevent discoloration of stainless steel and ruthenium.
Systems operate at different pressures and powers to normal cleaners.
Chambers are produced from low sputtering material to prevent cross contamination.
Generally with interlocking doors to act as a lock to a clean area.
It is recommended that these systems are ordered along with process development support. Due to the extreme requirements optimization may be needed dependent on the geometry of the parts.
Chamber volumes can range from 150 to over 8000l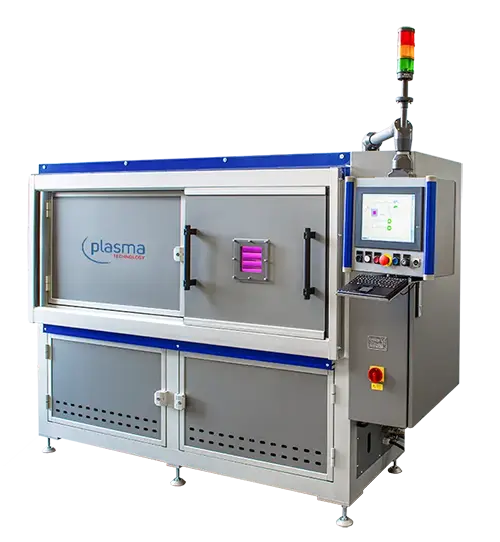 Dry treatment of circuit boards.
The chamber is provided with a rack system to hold several circuit boards.
Dependent on your needs this plasma system can be programed to clean etch or de-smear boreholes.
The processes are dry and comply with REACH regulations.
Reducing the use of fluorinated greenhouse gases. Research project "Plasmaklient"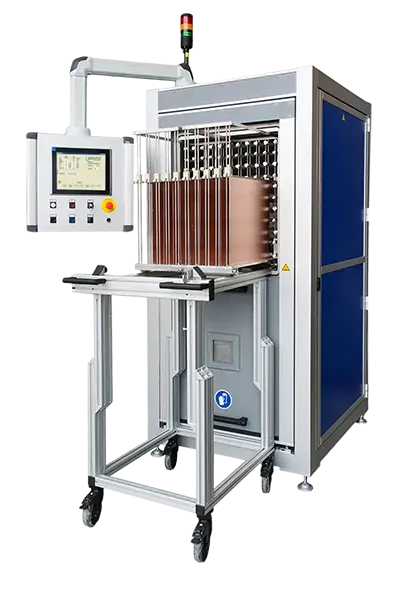 Example of operating a fast cycle system with a turntable feed.